Watch Video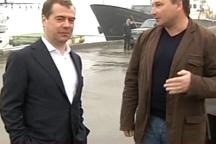 Play Video
The territorial dispute has been a sticking point between Russia and Japan. Both countries claim the sovereignty of four islands, known as the Northern Territories in Japan, and the Southern Kurils in Russia.
The Southern Kurils are located between Russia's Kamchatka Peninsula and Japan's Hokkaido. The four disputed islands are Etorofu Island, Kunashiri Island, Shikotan Island and Habomai Island. Japan refers to them as the Northen Territories. These islands occupy an area of about 5-thousand square kilometres. They not only occupy an important geographical position, but also enjoy a fine harbour and abundant fishing resources.
At the end of World War Two, the Soviet Union occupied these islands. Since then, they have been under Russian administration. However, Japan has never stopped claims of its sovereignty over these islands, saying Russia "illegally" occupied the four islands after World War Two.
Japan demands Russia return the four islands, in exchange for the signing of a peace treaty with Russia. Meanwhile, Russia believes the administration of the islands are the result of the the Second World War, believing any change over the islands means the denial of the war.
In July 2009, Japan's parliament passed an amendment, claiming the four islands as Japan's inherent territories for the first time. The move was strongly opposed by Russia.
On November 1, 2010, the then Russian President Dmitry Medvedev became the first Russian leader to visit Kunashiri Island, the second largest of the disputed islands.
In protest, Japan's former Foreign Minister Seiji Marhara flew over the disputed islands in a coast guard plane in November.
However, Japan's protest was dismissed by Russia. Medvedev, now the Russian prime minister, landed on Kunashiri Island again this July. He said Russian leaders should visit the islands regularly, becasue the Southern Kurils is an integral part of Russia's territory.
Related stories
Editor:Zhang Dan |Source: CCTV.com