Watch Video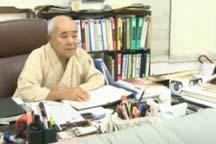 Play Video
By CCTV correspondent Mary Davis
An 80-year-old Japanese entrepreneur in Okinawa prefecture has said the Diaoyu Islands disputes have put a heavy damper on hotel, travel, and business sectors with Chinese visitors.
Mr. Koichiro Kokuba, former CEO of the Terrace hotel in Okinawa prefecture, now serves as the supreme advisor of the hotel. Twenty years ago, he noted that more and more Chinese travelled to Okinawa for sightseeing and investment, so he built the hotel.
Mr. Koichiro Kokuba said he's regretful that exchanges between private sectors of the two countries have been hampered by rising tensions over the Diaoyu Islands.
Koichiro Kokuba, supreme advisor of Terrace Hotel, Okinawa, said, "The Diaoyu Islands disputes disrupted the economic ties between China and Japan. And Okinawa took the heaviest brunt."
He also said the tourism industry was hit extremely hard. Flights, hotel occupancy rates, and sales profits have been heavily affected. His planned exchange activities with businessmen from the Chinese mainland were also suspended.
Koichiro Kokuba said, "We are trying our best to boost China-Japan relations. Based on the existing friendship between Okinawa and China, I hope more exchange opportunities will be built to help the gradual resumption of healthy bilateral ties. "
He also said though the current bilateral relation is not optimistic, he believes all problems can be solved in the end, and his enterprise will do the best it can to help.
Related stories
Editor:Zhang Dan |Source: CCTV.com