Watch Video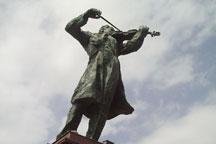 Play Video
By CCTV correspondent Robert Farr
The Diaoyu Islands tension between China and Japan has affected cultural exchanges between the two countries. But some Japanese are still trying their best to strengthen communication.
Friendship between China's Kunming and Japan's Fujisawa City is based on one Chinese man.
In 1935, the famous Chinese composer Nie Er, who was born in Kunming, came to Fujisawa. He is best known for composing China's national anthem, the March of the Volunteers. Unfortunately Nie Er drowned while swimming here.
In 1954, people from Fujisawa City built a Memorial square for the Chinese composer. It was the 100th anniversary of Nie Er's birth in July this year and commemorative activities were held here.
There are frequent people to people exchanges between Kunming and Fujisawa City.
A school in Fujisawa has issued an exchange student plan with Kunming. Some students from Kunming are expected to come to the school next February, while some students from the school will go to Kunming in March.
Tanaka Yoshitaka has organized many activities.
Tanaka Yoshitaka, Director, Japan-China Friendship Association, said, "Some negative reports on China from Japan's media have left a unfavorable impression of China on more and more Japanese young people. But some areas like Fujisawa City are still pushing ahead with people to people exchanges with China. "
Yoshitaka says young people from both China and Japan should have a clear understanding of history, and experience each other's culture by themselves.
Related stories
Editor:Bai Yang |Source: CCTV.com