Watch Video
Play Video
Syrian rebel fighters say they've shot down a fighter jet as it flew over the northern town of Atarib in Idlib province. Activists say the fighter jet was brought down by rebels using anti-aircraft guns when they were attacking a military base near the town.
Rebels say they need surface-to-air missiles to defend their positions from planes and helicopters used by the Syrian military to bombard opposition strongholds.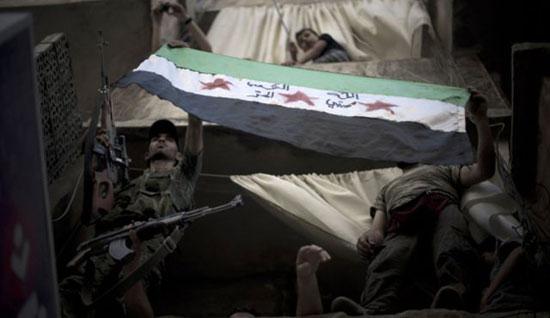 Rebel fighters raise the pre-Bath Syrian flag from a second story window
during an anti-regime protest in the Bustan al-Qasr neighborhood of Aleppo
on September 21, 2012.
Meanwhile, Syrian troops say they've repelled an attack waged by rebel militias on a military checkpoint in the town of Idlib. One soldier is reported to have been killed in the confrontation. Further reports say more gunmen have been killed in two operations carried out by Syrian troops in the al-Shaar district of northern Aleppo.
Troops say forty trucks fitted with machine guns, belonging to insurgents in the Atareb area outside Aleppo, have been destroyed.
Editor:Bai Yang |Source: CCTV.com