Watch Video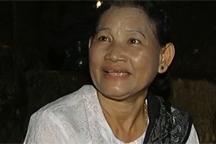 Play Video
By CCTV reporter Xu Zhaoqun
Cambodia has experienced terrible pain in the past, but its people still live their lives with optimism. In the first of a series of reports from Cambodia, throughout this week, CCTV's Xu Zhaoqun explores this attitude and how it is linked to the country's culture.
Every morning, Song Dan comes punctually to Bayon Temple in the jungle outside the city of Siem Reap in the north of Cambodia. Her only job is to stay with the Shakya Mani Buddha inside this dark and narrow stone room. There is no payment for this, but there is always a smile on her face, and that impresses every visitor.
Song Dan, Bayon Temple Keeper said, "I am not lonely. Staying with the Buddha is the happiest thing. if you are happy inside, then nothing around you is bad."
Bayon Temple is famous for the smiling faces of the ancient kings carved on the huge stones. Walking around inside the temple, history doesn't seem far away. Local people still worship the stone figures, and their devotion is a good illustration of the nation's character.
All the historical sites are located in the jungle. Nowadays they seem like the busiest place in the country.
Mr. Wu has been a tour guide in Angor Wat for more than 20 years. He likes the job so much that he wants his two daughters to do the same after they graduate from the local university.
When asked why he is so happy in the job, even though most of his clients may be richer than him, he says what he likes most is a quiet life without many changes, and he will never lose this job because everyone wants to come and see this wonderland.
Mr. Wu, Tour guide, Siem reap said, "It has nothing to do with the money. Yes, this is a good job, compared to others in the city. But more important is that I can do it for many years to come. If there is no turmoil, then I am happy enough."
Many people in Cambodia are still struggling just to eat and living conditions are much worse than in neighboring countries. But, smiling faces can be seen everywhere. The Khmer smile is not just a name for the stone figures, but also of the entire nation.
Editor:Wang Shuo |Source: CCTV.com