Watch Video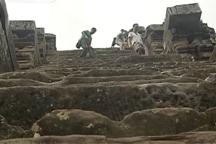 Play Video
By CCTV reporter Liu Ying
Angkor Wat, Cambodia's famous world heritage, had suffered serious damage due to human activity and environmental reasons. Long-standing efforts to restore the temples started as early as beginning of the 20th century. Ten years ago, archaeologists from different countries, including China, launched an international conservation movement. Liu Ying tells us more about the work of Chinese archeologists.
Saving the ancient temples of Angkor - the collaborative effort and mission of archaeologists from different countries.
Dr. Wen Yuqing is from the Chinese government team. He's been working here since 2006. Now he and his colleagues are working on the restoration of the Ta Keo temple, the last of the great undertakings to be finished.
DR. Wen Yuqing, Conservation architect said, "This pattern of calyx is an important basis for us to judge the time of the Ta Keo temple. Such patterns first existed in 9th century and never appeared after the Ta Keo temple. So we've drawn the conclusion that the Ta Keo temple might have been built between late 10th and early 11th century."
The lack of information about the Ta Keo temple poses a big challenge. Weathering and deterioration have also increased the difficulty of the restoration.
Liu Ying, Ta Keo Temple, Angkor said, "More than 7000 collapsed rocks are scattered around in the Ta Keo temple. Each rock is of more than 1000 years of age. One key aspect of the restoration work is to put some of these rocks back to their original positions."
In situ restoration is a common practice. Each stone is carefully numbered to ensure its precise position during the repair process.
The restoration project is scheduled to last eight years and be completed in 2018. The Chinese government will provide financial support of six million US dollars. It's the second project the Chinese archaeologists have undertaken. The restoration of the Chausay Tevada temple was completed in 2008.
DR. Wen Yuqing, Conservation architect said, "China and Cambodia historically have over two thousand years of exchanges. Part of the ancient history of Cambodia can be found in Chinese historical documents. This is a unique advantage for us. When comparing some of the decoration details of Angkor with the Chinese decorative theme, we found sometimes they share the same culture of origin."
The work of the Chinese archaeologists have won praise from their foreign counterparts and Cambodian government. They have and will continue to contribute to the friendship and cultural exchanges between the two countries.
Editor:Wang Shuo |Source: CCTV.com