Watch Video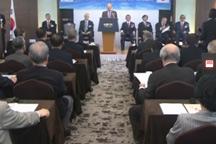 Play Video
Former Japanese Prime Minister Taro Aso has met South Korea President Lee Myung-Bak in Seoul. Aso is the first Japanese politician to meet Lee Myung-Bak since the South Korean President set foot on the disputed island, called Takeshima in Japan and Dokdo in South Korea.
Japanese officials sayAso has brought a message from Japanese Prime Minister Yohihiko Noda. The two countries' ties have been strained by the territorial disputes over Dokdo islets, known in Japan as the Takeshima.
Earlier on Monday, Aso attended the 48th Korea-Japan Cooperation Committee session in Seoul acting as Japanese chairman of the civilian forum. The two sides exchanged views on economic cooperation and political changes in Asia. Aso is representing the Japanese side.
He is a close associate of Shinzo Abe, who has just regained the leadership of Japan's Liberal Democratic Party. Some believe that his visit is to help the LDP to win Japan's next election.
Related stories
Editor:Zhang Jianfeng |Source: CCTV.com