Watch Video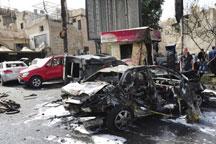 Play Video
Syrian opposition activists have reported a return to heavy government bombardment in major cities on Saturday.
Activists in the eastern city of Deir al-Zor, the suburbs of Damascus, and in Aleppo, said that mortar bombs were fired into residential areas on Saturday morning. The bombardment further undermined the truce during the Muslim Eid al-Adha religious holiday.
The Syrian military, however, said it is responding to attacks by insurgents on army positions on Friday. A statement from the General Command of the Armed Forces detailed several ceasefire violations. It said "terrorists" had fired on checkpoints and bombed a military police patrol in Aleppo.
The Syrian Observatory for Human Rights, a British-based opposition organization, reported that more than 150 people were killed on Friday, the first day of the truce.
Editor:Bai Yang |Source: CCTV.com