Watch Video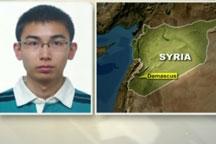 Play Video
A booby-trapped car went off in front of al-Serian Church in Syria's eastern province of Deir al- Zour on Saturday, causing damages to the church's facade, the state-run SANA news agency reported. Full Story>>
For more on this, we're joined by our reporter Zhang Chengzhu, who is in Damascus.
Q1. What is the latest on the security situation in Syria? General Command of the Armed Forces has released a statement of several ceasefire violations. Give us the details.
Q2. How are both the Syrian government and the international community responding to the broken ceasefire?
Editor:Bai Yang |Source: CCTV.com