Watch Video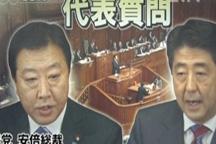 Play Video
The new head of Japan's main opposition party has failed once again to force Prime Minister Yoshihiko Noda into setting a date for a general election.
The leader of the Liberal Democratic Party, Shinzo Abe, has been pressuring Noda to dissolve the country's Lower House of Parliament, paving the way for elections by the end of the year.
The Liberal Democratic Party leader and former prime minister faced off with Noda in a televised Lower House plenary session.
Shinzo Abe condemned the Democratic Party of Japan's rule as three years of lost hope, and slammed Noda for avoiding a general election.
Abe said, "You have created a political vacuum, while trying to put off the dissolution and prolong the life of the government."
The LDP leader says Noda should keep the promise he made in August, to hold a general election soon.
Noda shrugged off the criticism and once again stated he would call an election once key legislation and agendas are cleared.
Noda said, "I said I would seek the public's judgment soon and I take those words seriously. Once the conditions are met, I will make a firm decision."
While Noda continues to resist calls for an early election, his own power base is eroding.
The latest polls show Noda's public support rate has fallen to 20 percent.
Last week his justice minister resigned amid rumors over mob ties, and two more lawmakers withdrew from the DPJ.
If the DPJ sees six more defections, it will lose its majority in the lower house. If that happens, then a no-confidence motion against the government could be submitted.
Editor:Zhang Rui |Source: CCTV.com