Watch Video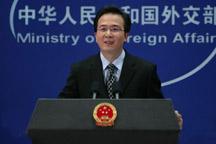 Play Video
Chinese Foreign Ministry spokesman Hong Lei says any attempt by Japan to draw in a third party to confront China over the Diaoyu Islands dispute will be in vain. Hong Lei made the comments in response to a question concerning the US and Japan's stance on the Diaoyu islands.
He says, "The Diaoyu Islands have been China's sacred territory since ancient times. China has the resolve and ability to safeguard its territorial sovereignty over the islands. It's futile for Japan to try to draw in a third party to confront China."
When asked whether China will continue to patrol near the Islands, Hong Lei says Chinese marine surveillance vessels will continue their regular patrols near the Diaoyu Islands as they constitute normal activity to exercise China's jurisdiction over the islands.
Related stories
Editor:Zhang Jianfeng |Source: CCTV.com