Watch Video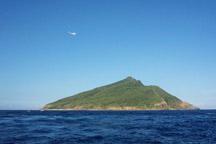 Play Video
The Chinese ambassador to France Kong Quan says that historical evidence shows the Diaoyu Islands belong to China. He also said he hopes Japan will correct its wrongdoings over the issue as soon as possible.
In an essay published in the French daily newspaper Le Monde, the Chinese ambassador said historical records, including several ancient maps in the National Library of France, demonstrate that the Diaoyu Island and its affiliated islets are part of Chinese territory.
Kong Quan said previous leaders of the two countries had agreed to shelve the dispute. This agreement was an important foundation for the normalization of China-Japan relations.
But he noted that Japan had repeatedly made provocations over the Diaoyu islands issue, including building lighthouses and trying to "nationalize" the islands.
The ambassador said China does not want the current conflict to continue. But he said it is Japan's responsibility to correct its mistakes as soon as possible.
Japan's attitude toward its history has also been a source of tension. Kong Quan cited former Japanese Prime Minister Junichiro Koizumi's repeated visits to the Yasukuni shrine dedicated to Japan's war dead, including World War Two war criminals.
The ambassador said it takes a confident nation to admit its mistakes and correct them. He pointed to Germany, whose willingness to confront its past contrasts sharply with Japan's and has laid the foundation for peace and prosperity in Europe today.
Editor:Zhang Jianfeng |Source: CCTV.com