Watch Video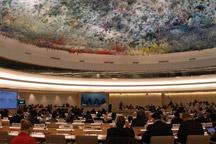 Play Video
The United Nations Human Rights Council has carried out its regular investigation into the human rights situation in Japan, bringing the comfort women issue again into focus in Geneva.
It has come up with advice and suggestions on gender inequality and the basic rights of women and children. Many countries have expressed their concerns over the use of comfort women during the Second World War.
S. Korean representative says, "A number of UN treaty bodies as well as the UN Commission on Human Rights have recommended that the Japanese government accepts its legal responsibility, and provides redress to the victims, and further prosecutes those responsible for such crimes. These issues however still remain unresolved."
In addition, the Dutch representative on the UN Human Rights Council says the subject of comfort women during the Second World War has been eliminated from the Japanese school curriculum and textbooks. This has deprived people of learning about Japan's crimes.
China condemned Japan at the meeting for not taking any effective measures on the comfort women issue and not apologizing and compensating the victims. Meanwhile, China has also urged Japan to implement the UNHRC's suggestions without delay to promote gender equality and protect the basic rights of women and children.
The UNHRC investigates every member state's human rights situation every four years.
Related stories
Editor:Zhang Jianfeng |Source: CCTV.com