Watch Video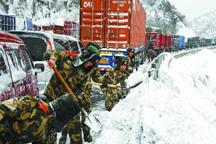 Play Video
By CCTV reporter Han Peng
Beijing's northern Yanqing district has been hit hardest by the snowstorm. Snow and ice have blocked the only highway that connects the district to downtown. Thousands of drivers and passengers were stranded for long hours at midnight in freezing conditions, without food, drink or suitable clothes.
Many people thought they were taking a pleasant drive in the countryside. It turned into a snow-bound nightmare. Winter arrived suddenly with a vengeance. They were caught unprepared.
This is one of the major lifelines that connect northern Beijing to its downtown, but as you can see, the heavy snowstorm has blocked the entire highway. Drivers here have been stranded for long hours in the cold and dark. The traffic jam stretches for over 10 kilometers.
Rescue workers are working around the clock to move everyone out. But the extreme weather conditions have proved challenging, even for the emergency services.
For larger vehicles that can't be pulled out, rescuers took drivers to a tunnel further into the mountain, to shelter overnight.
By midnight, the last driver had been rescued.
Liu Guoping, stranded driver, said, "I've been driving on this highway for years, but I've never seen such heavy snow. When the police found me, everyone else had been rescued."
For this moment, the driver had been waiting in freezing conditions since noon, without food or drink. The emergency service is still on high alert, to ensure that no one else is trapped in treacherous conditions.
Editor:Zhang Dan |Source: CCTV.com