Watch Video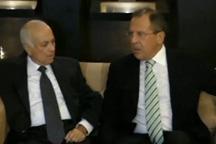 Play Video
A meeting between peace ambassador Lakdhar Brahimi, Russia's foreign minister and the head of the Arab League has failed to produce an agreement over how to solve the Syrian crisis.
Arab League chief Nabil al-Arabi says they discussed all sides of the situation in Syria with each party agreeing about the necessity to move forward. But no new plan was reached.
According to the Geneva agreement reached by world powers in June, a transitional government in Syria must be formed on the basis of a mutual agreement between the government and the opposition. Russian Foreign Minister Sergei Lavrov accused countries that only work with the Syrian opposition of not sticking to the Geneva agreement.
Sergei Lavrov, Russian Foreign Minister, said, "Russia is trying to execute what was agreed upon in Geneva. But, with great regret, the other Western and regional countries who took part are speaking only with the Syrian opposition and are not speaking with the government. And they are not only speaking with them, they are encouraging them to fight in Syria and to fight until victory."
Related stories
Editor:Zhang Dan |Source: CCTV.com