Watch Video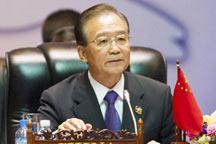 Play Video
Chinese Premier Wen Jiabao has attended the 9th Asia-Europe Meeting Summit in the Laotian capital Vientiane. Speaking in front of dozens of world leaders, Premier Wen delivered the keynote speech, calling for greater cooperation to tackle the world's challenges.
Wen Jiabao said the global financial crisis continues to plague the world after more than four years. He said Asian and European countries have continued to improve their domestic economic policies to solve outstanding contradictions and problems. Better communication he said, has led to the strengthening of international dialogue which has allowed for the better coordination of macroeconomic policies to boost the global recovery.
Premier Wen also said China has worked hard to stabilize its domestic economy, by maintaining steady and rapid development.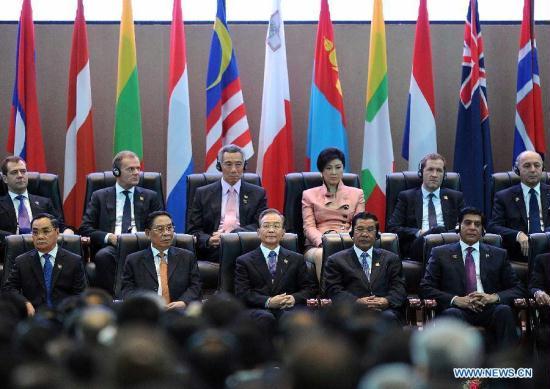 Chinese Premier Wen Jiabao (C front) attends the opening ceremony of the 9th Asia-Europe Meeting (ASEM) Summit in Lao capital of Vientiane on Nov. 5, 2012. (Xinhua/Li Tao)
He called China an important engine of world economic growth, saying it has played a crucial role in the global recovery.
Regarding development goals for the year, Wen said China is confident not only in its ability to meet this year's growth targets, but also in achieving longer term, higher level and better quality development.
Wen Jiabao also gave a four point proposal to boost the global economic recovery.
The first was to establish a free, open and fair international trade environment, which will be an important engine of growth.
Second is to strengthen macroeconomic policy coordination. The third to jointly promote technological innovation to overcome the crisis.
And finally, to build a sound global economic governance system that guarantees the world's economic growth.
At the end of his speech, Wen also gave a four-point proposal on Asia-Europe cooperation.
They include holding seminars on the future development of ASEM meetings.
Establishing a technological and innovative cooperation network to better tap water resources in Asia and Europe.
To carry out the ASEM forestry demonstration project and to make better use of the Asia-Europe Foundation.
Editor:Zheng Limin |Source: CCTV.com