Watch Video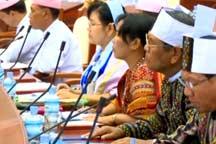 Play Video
Myanmar has published a new foreign investment law, which was recently passed by parliament and signed by President U Thein Sein. The law, which allows overseas firms to fully own ventures along with multi-year tax breaks, has caught the attention of foreign investor
Opening up an economy long closed to the outside world.
According to the 20-chapter law, foreign investors can now fully own ventures after getting permission from the Myanmar Investment Commission.
The law also allows joint ventures between foreign investors and local partners. And the investment ratio will be jointly decided by the two sides.
The new law is more flexible and investment-friendly than previous regulations. Such incentives have stirred interest among Chinese companies, which are looking to expand their investments, having entered the market years before.
Jiang Shuqing, Representative of China National Fisheries Corporation, said, "Myanmar had a similar law in 1988, but that law has a lot of legal and practical problems. So in fact, that law failed to protect us. If we are given more legal support, we will increase our investment in Myanmar."
The new law also allows foreign investors to invest in many industries, including electricity, oil and gas, mining, manufacturing, catering, tourism and real estate.
In restricted industries such as agriculture and livestock feeding, the law allows foreign investors to cooperate with Myanmar's investors to form joint venture enterprises.
The law also stipulates some favourable policies. Newly-established joint ventures in the country are granted with five-year tax exemptions.
For potential foreign investors, the law's enactment is the first step towards improving the country's investment environment.
Li Guangyu, Deputy General Manager of Kunming Baker Norton Pharmaceutical, said, "Apart from this foreign investment law, we hope that more regulations and related laws can be improved."
The expected increase in foreign investment will boost Myanmar's economic development, as more capital and advanced technology flows into the country. But local companies will be subjected to even fiercer foreign competition, which has prompted the country's government to think about how to leverage the benefits of foreign investment while mitigating the negative impacts to its domestic companies.
Editor:Zheng Limin |Source: CCTV.com