Watch Video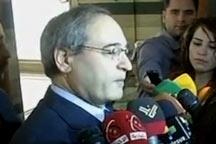 Play Video
Syria's Deputy Foreign Minister, Faisal Miqdad, has dismissed talks in Qatar by anti-government forces to elect a new opposition leadership.
Earlier on Sunday, the main Syrian opposition group, the Syrian National Council began a General Assembly in Doha to elect a new leadership.
The US called last week for an overhaul of the opposition's leadership, saying it was time to move beyond the SNC. The meeting comes after the US State Department criticised the SNC for being unrepresentative of all opposition groups.
Under a new plan, called the Syrian National Initiative, the new leadership will include representatives of the rebels' Free Syrian army, political groups and local councils in Syria. But Syria's Deputy Foreign Minister said foreign countries are using the grouping to escalate the crisis in the country.
Faisal Miqdadm, Syrian Deputy Foreign Minister, said, "When these opposition groups follow the desires of Israel, the United States and Western countries that are hostile to Syria's people, this shows the main goals of these conferences which are to escalate the situation in Syria."
Related stories
Editor:Zheng Limin |Source: CCTV.com