Watch Video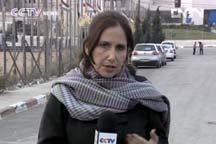 Play Video
The Palestinian National Authority (PNA) on Tuesday finalized digging up remains of late Palestinian leader Yasser Arafat, as Russian, Swiss and French experts took samples of the remains to inspect the reason behind his death. Full Story >>
For the very latest on the exhumation of Arafat's body, we're joined by our correspondent Stephanie Freid in Ramallah. She will also be joined by Dr. Said Zeedani, professor of Political Philosophy from Al-Quds University.
Q1. Stephanie. How did the exhumation go today?
Q2. What did the members of the investigative team say about the proceedings?
(Questions for guest)
Q1. Is it a coincidence that the exhumation has taken place in the same week that the Palestinian leadership will submit its bid to the UN for observer status?
Q2. If evidence of poisoning is discovered, is it likely that the perpetrators will be brought to justice?
Related stories
Editor:Zheng Limin |Source: CCTV.com