Watch Video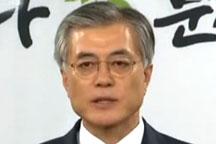 Play Video
South Korea's presidential candidates have made a public declaration of their personal property and tax returns, as they register for the elections next month.
According to South Korean media, the ruling Saenuri Party's candidate, Park Geun-hye has declared the highest level of personal assets of all the candidates. Her total personal property amounts to around 2 million US dollars. Moon Jae-in, the candidate for the main opposition Democratic United Party has declared personal assets amounting to around 1.15 million US dollars.
Park has declared tax returns of around 92 thousand US dollars over the last 5 years, which is less than that declared by Moon. Park and Moon are vying to win over swing voters and former supporters of Ahn Cheol-soo, an independent who abruptly withdrew from the race last week to endorse Moon as a sole candidate on the liberal ticket.
Editor:Zheng Limin |Source: CCTV.com