Watch Video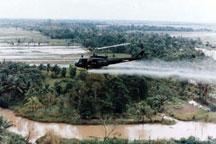 Play Video
The Vietnam War ended almost 40 years ago. But for the victims of Agent Orange, a chemical defoliant sprayed across the country by US forces, the pain is far from over. Generations are suffering from cancers and deformities linked to the spray. The US has resisted calls for compensation - but is now spending millions of dollars to clean up the legacy of its actions.
Dang Thi Hua was born 17 years after the Vietnam War ended, but her entire life has been shaped by it.
With deformed legs and feet, Hua can only walk with difficulty. Like her grandfather, father and brother she is a victim of Agent Orange - a chemical sprayed across Vietnam by US forces.
She said, "I was very sad to see my friends go to school, dance, sing songs and play together normally when I could not. Now they are grown up, they have jobs and earn money, but I cannot. At my age my friends are getting married and having their own families, but I cannot."
During the Vietnam War in the 1960s, America pumped millions of gallons of Agent Orange - a chemical spray containing highly-toxic dioxin - from planes and helicopters into the jungle, to kill trees used by soldiers as cover and the rice on which they fed.
Today, at the former US airbase at Da Nang, the American government is building an enormous concrete enclosure - costing 84 million dollars - to de-contaminate polluted soil. But the US is resisting calls for compensation.
At this hospital, third generation victims of the chemical are cared for. A child born without eyes. Another whose head is huge and mis-shapen. Children too badly-deformed for their parents to cope.
Dr Nguyen Thi Phuong Tan, Tu Do hospital, Ho Chi Minh city, said, "I think the US use of Agent Orange was inhuman. It has caused so many injuries. Even the US soldiers in Vietnam were affected by the dioxin. All people should condemn its use and say it should never, ever be used again."
This is a legacy which as yet has no end. Disabilities are being passed on, generation to generation. Even now, 38 years after the Vietnam War ended, babies are still being born with deformities directly linked to Agent Orange. No-one knows when it will finally be over.
Related stories
Editor:Zhang Jianfeng |Source: CCTV.com