The Chang'e 3 lunar probe has just landed on the moon's surface. This was China's first attempt at making a soft-landing on the moon. A six-wheeled rover is expected to be deployed later from the lander to explore the moon's surface.
The lunar probe which is composed of a lander and a rover, had been flying for days in an Earth-moon transfer orbit, making slight adjustments along the way. Chang'e-3 then entered a 100-kilometer lunar orbit after slowing down as it approached the moon. Four days later, Chang'e-3 moved into an elliptical orbit.
After another four days, the lunar probe went through six stages of deceleration until it was 15 kilometers above from the moon's surface. Later, the lander's rover will be deployed to begin exploration work. Both the rover and the stationary lander will independently conduct scientific research. The lander will work for a year, while the rover is expected to function for three months.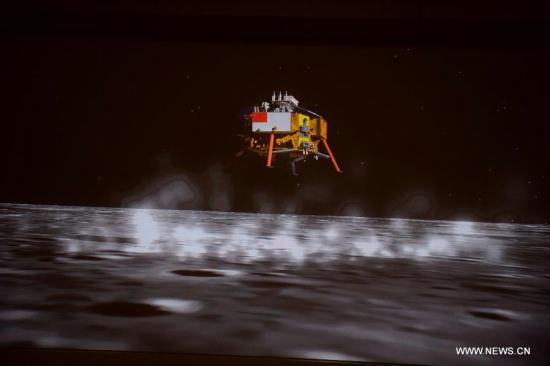 Photo taken on Dec. 14, 2013 shows the lunar probe Chang'e-3 on the screen of the Beijing
Aerospace Control Center in Beijing, capital of China. China's lunar probe Chang'e-3, with
the country's first moon rover onboard, landed on the moon on Saturday night, marking the
first time that China has sent a spacecraft to soft land on the surface of an
extraterrestrial body. (Xinhua/Jin Liangkuai)
Related stories
Editor:James |Source: CCTV.com