Watch Video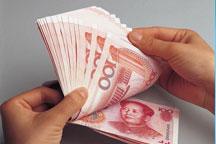 Play Video
After 2 consecutive months of decline, China's new lending has finally grown this year. But it's caused some concerns that the financial market could have too much excessive liquidity moving around.
Figures show China issued 1.4 trillion yuan in new loans, in January. The number dropped to 700 billion in February and 510 billion in March.
Lian Ping, Chief Economist, Bank of communications, said, "The country has met its major targets for credit management. New loans to be issued during the second quarter could average 700 million yuan each month. The number is a little bit high. But since April marks the beginning of the second quarter, it's ordinary for the month to have a high."
China has already issued 3.4 trillion yuan in new loans so far this year. That's already half of the annual target.
Lian said, "The amount of increased new lending in April was not very high. Generally speaking, the development of those figures are quite stable. Therefore, the country's credit control measures are quite effective."
But analysts still say there's no need to worry about the country's credit growth.
Lian also points, "Figures have proven that during the first half of April, the country's real estate market was still quite active. Since more property measures will come out later, the amount of money in people's saving accounts will definitely be affected. And those measures will also have some impacts on new loan growth in May."
Credit experienced some extreme highs and lows in 2009. Analysts believe the trend this year will be more balanced.
Lian said, "On-bill financing had been decreasing since July 2009. But it went up by over 40 billion yuan in April. Short-term lending also increased. All these have proven that the demand for short-term liquidity in the real economy is increasing. And the overall economic development is in a dynamic stage."
Analysts say, it could take a while for the country's real estate cooling efforts to show some results. But since prospects for the Chinese economy are still promising, the real economy sectors will need more cash to support their growth.
Editor:Zhang Jingya |Source: CCTV.com