Watch Video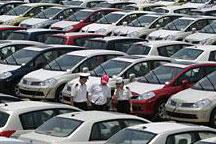 Play Video
An increasing supply of autos in the Chinese market, is putting pressure on dealers to sell faster. Salesmen are now resorting to promotions, to get rid of heavy stock piles.
Manufacturers have put production into overdrive. They've increased their sales targets, to ensure they get a larger share of the world's largest auto market.
Now dealers are having to resort to offering incentives to attract consumers, so they can get rid of their stock.
An auto dealer said, "Our stock is increasing and the pressure is starting to show. But we can still handle the amount of vehicles that we have for now. We have promotions.. big promotions.. we have made them bigger than last year to make sure that we can clear stocks."
The China Association of Automobile Manufacturers has issued a report that says, while the pressure might be on... car stocks remain stable.
Dong Yang, Managing Vice Chairman, China Association of Automobile Manufacturers, said, "Our figures show the stock kept by manufacturers, not the overall stock - which includes manufacturers' stock, stock on the way, and terminals' stock - normally totals up to the production of one and half months."
Experts say, the production is starting to slow to stable levels. And that because overall auto demand is still high, supply and demand should re-balance.
Editor:Zhang Jingya |Source: CCTV.com