Watch Video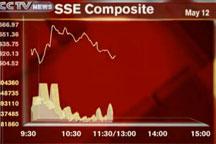 Play Video
The Shanghai Composite index once fell to the 2604, near the key 2600 psychological level, but soon rebounded. It hit an 11-month low Tuesday after higher April inflation sparked investor fears of more credit tightening.
Helping the market is Ping An Insurance. It soared over three percent, driving the financial shares. The country's second largest insurer said it had income from premiums of 85 billion yuan in the first four months of this year.
Property shares also led the market gain this morning. They are under selling pressure in recent trading days, as China has announced several rounds of measures to cool housing and consumer prices, These include imposing mortgage lending curbs and ordering banks to divert more money into reserves.
Gold shares surged after burgeoning demand pushed the price of gold to a record high. Investors sought safer havens as the euro tumbled across the board. Gold futures on the New York Mercantile Exchange skyrocketed on Tuesday. The most active gold contract for June delivery surged 1.6 percent, to finish at 1,220.3 dollars an ounce.
Editor:Zhang Jingya |Source: CCTV.com