Watch Video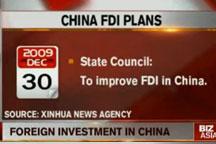 Play Video
At the end of 2009, a State Council meeting announced plans to improve the structure of foreign direct investment in the country.
On April 6th, it came up with detailed guidelines to accomplish those goals. According to the guidelines, China is now seeking quality foreign investors in high-end, modern service, environmentally friendly sectors.
One day later the Ministry of Commerce announced that the country remains open to foreign investment. It showed signs of planning to continue with that open policy in the future.
On April 10th, the National Development and Reform Commission, or NDRC announced at the BoAo Forum, that a new document would be released to further improve FDI in the country.
On April 13th, the Ministry of Finance and State Administration of Taxation jointly announced that foreign research and development centers in China would be exempt from equipment import taxes.
On April 29th, the country announced its plans to boost foreign direct investment in its central regions. This is the first regional FDI program that the country has approved at the state level.
Editor:Zhang Jingya |Source: CCTV.com