Watch Video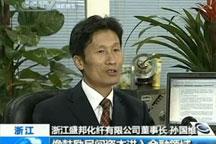 Play Video
Private entrepreneurs are welcoming the new guideline.
Private entrepreneurs agree the State Council's policy will widen their capital playing field.
Sun Weiguo, Board Chaiman, Zhejiang Sunbird Chemical Fiber Co., said, "For example, private capital can invest in gas and oil exploitation. This means cost reduction for textile companies. Fields like the financial sector, which we have never imagined having access to, are also open to us."
Jack Holding Group is a sewing machine manufacturer that is considering developing into a multi-sector conglomerate.
Ruan Fude, Board Chairman, Jack Holding Group, said, "Currently, private capital is mainly invested in housing and stock markets. With the issuance of the guideline, we will have a clearer view of where our money can go."
Entrepreneurs are enthusiastic about the guidelines because it also includes fair competition.
Xu Hong, General Manager, Jiaxin Silk Co., said, "Sectors like urban construction and national defense were not accessible to private capital. But the guideline has lifted the ban."
Qiu Zhiming, Board Chairman, Beifa Group, said, "We will have more opportunities and more ambitions in a much more open environment."
Private entrepreneurs say they now have greater confidence in their future.
Editor:Zhang Jingya |Source: CCTV.com