Watch Video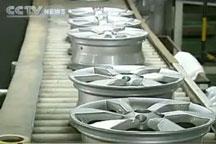 Play Video
The European Union has slapped provisional anti-dumping duties of up to 20.6 percent on imports of aluminum vehicle wheels from China. An EU press note says the move comes after a complaint of unfair competition from European manufacturers. The industry regulator in China, China Chamber of Commerce for Import and Export of Machinery and Electric Products, denies the charge.
China's industry regulator says the Chinese products don't hurt the EU's manufacturers.
Chen Huiqing, official, CCC for Machinery Exports, said, "The price of our exports to Europe is not lower than the domestic price and our manufacturers don't undersell their products there."
Investigation results from the European Commission put the unified anti-dumping scope of the aluminum wheels from China at 69 percent, and the damage scope at 20.6 percent.
But the largest aluminum wheel manufacturer in China says the Chinese manufacturers' market share in the EU is only 8 percent. It also says they are not given fair treatment in EU.
Geng Diaojun, Deputy GM, CITIC Dicastal Wheel Manufacturing, said, "It's a pity that the European Commission does not provide us a basic fact and they don't treat us as a market economy. It's not fair."
The European Commission launched an anti-dumping investigation against the imports from China in August 2009. The value of the case was 390 million US dollars.
Related stories
Editor:Zhang Jingya |Source: CCTV.com