Watch Video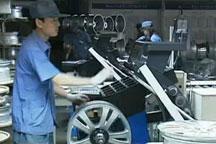 Play Video
Now for a brief review of how the anti-dumping investigation started and evolved.
On August 13th, 2009, the European Commission announced it was launching an investigation into Chinese exports of aluminum alloy wheel hub products. It involved around 390 million US dollars' worth of Chinese products. 36 domestic companies responded to the sample questionnaires.
Their exports to the EU account for over 90 percent of the China total to the 27-nation bloc. The European Commission chose 4 as sample companies. In January, the Commission ruled that none of those companies can enjoy market-economy status. China has twice arranged for the related government agencies and enterprises to travel to the EU to negotiate with auto makers, the European Commission and its member countries.
Related stories
Editor:Zhang Jingya |Source: CCTV.com