Watch Video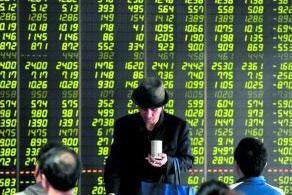 Play Video
Asian Bourses plunged across the board on Monday, as fresh concerns over debt woes in Europe dampened sentiment across the region.
Sentiment in Asia turned on growing concerns that cost-cutting fiscal measures being taken by Greece, Portugal and Spain could hamper a recovery in the eurozone economy.
Stock indices across the Asia-pacific region took a plunge, with Japan's benchmark Nikkei dropping 2.2 percent, and South Korea's Kospi losing 2.6 percent. Australia's key index was down over 3 percent. And Hong Kong's Hang Seng index lost about 2.5 percent.
Analysts say traders are worried that what happens in Europe won't stay in Europe.
Francis Lun, General Manager, Fulbright Securities Limited, said, "Last week European markets fell sharply by three to four percent and that created a domino effect in global equity markets."
Countries like Greece and Spain are being forced to make budget cuts because of soaring debts. They must repay money used to bail out banks.
He said, "Most of the major Western banks, European and American banks were hit with huge amounts of bad debt. They were only saved from collapse after the governments injected a lot of money. And the governments had to borrow this money. Now its time for the governments to repay the borrowed money and they find out they are so heavily in debt that debt repayment eats up all or most of their budget income so they have nothing left so right now it's a budget crisis for the governments in America and in Europe."
As investors are well aware, that puts those government at the center of a budget crisis.
Editor:Zhang Jingya |Source: CCTV.com