Watch Video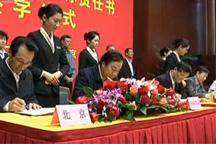 Play Video
Construction of low-income housing will begin in earnest, across China before the end of July. Local governments have signed an agreement to have a substantial number of homes finished by year's end.
Housing for those who need it most. The Ministry of Housing and Urban-Rural Construction, has asked local governments to build 5.8 million apartments for low income families, and to renovate shanty towns. Local governments have also agreed to rebuild homes that are deemed "dangerous" for 1.2 rural families. The target is much greater than last year.
Jiang Weixin, minister of the Ministry of Housing and Urban-Rural Construction, said, "The signing of commitment means responsibility. Local governments should give preferential policies and capital support for the building, especially local governments in central and western China. The central government has already given financial support. 16 billion yuan will be distributed next week."
Local governments say they can meet the challenge. Liu Haisheng, an official of Shanghai Municipal government, said, "Shanghai will start building 12 million square meters in low-income housing. Most are small and medium sized houses. So far construction is going well." Sun Li, an official of Chongqing Municipal government, said, "We will build 12 million square meters this year. That is five times the total over the past six years."
The Ministry will supervise construction, and hopes for the homes to be completed before the end of the year.
Editor:Zhang Ning |Source: CCTV.com