Watch Video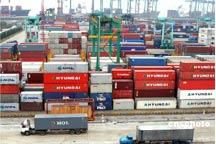 Play Video
Official figures released today, show China recorded a sharp increase in both imports and exports in May. It increased the country's trade surplus to almost 20 billion U.S. dollars.
The sixth consecutive month of growth.
China's exports in May rose by 48.5 percent, compared with that of a year earlier. While imports increased by 48.3 percent.
Market watchers say the report is a positive sign for the country's growth, and China's demand for foreign goods.
China's trade surplus widened to nearly 20 billion US dollars. Up from 1.7 billion in April.
Huang Guohua, Official of General Admin. of Customs said "The most prominent characteristic of trade in May was that strong export growth was above expectation. That's mainly because of the better-than-expected recovery of the global economy. It's also thanks to export growth in high tech products."
Imports of copper dropped by nearly 10 percent. But imports of crude oil, rose over 4 percent.
Strong domestic demand pushed up imports of luxury consumer goods like cars, luxury watches and jewelry, and high tech products.
Zheng Yuesheng, Official of General Admin. of Customs said "Imports of products for high-energy consuming and pollutive industries dropped. While imports of middle and high end consumer goods grew fast. It suggests that China's trade structure is improving. Policies to change the economic growth model could be taking effect."
The EU and US are still China's two biggest trading partners. But the ASEAN regional bloc, replaced Japan as China's third largest trading partner.
Economists expect China to continue to post monthly trade surpluses in the coming months, as well as an overall trade surplus for the whole year.

Editor:Du Xiaodan |Source: CCTV.com