Watch Video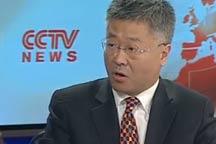 Play Video
For more insight, let's cross-over to Xu Sitao, the Chief Representative of the Economist Group China.
1 May's CPI is now standing above the alerting level of 3 percent. Should it be a concern?
2 The PPI is still running at a high level, but the growth rate is lower. How do you interpret this figure?
3 How will the price indexes affect the central bank's stance on interest rates and RMB value? Do you think we can expect a decision on either issue soon?
Editor:Xiong Qu |Source: CCTV.com