Watch Video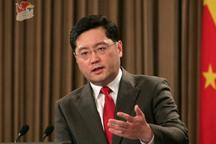 Play Video
The G20 is not an appropriate venue for discussing China's currency policy. China's Foreign Ministry said on Thursday , after fresh calls in the United States for China to free up controls on the yuan's exchange rate.
Foreign Ministry spokesman, Qin Gang says any decision to let the yuan appreciate will be based on its own assessment of the economy and the G20 summit is not the appropriate venue for scrutinizing currency policies. Qin also says China wouldn't give in to any foreign pressure to let the value of its currency rise.
Qin Gang, Chinese Foreign Minisry Spokesman, said, "The Chinese government continues to exercise the principles of independence, moderation and control when we push forward the reform of the renminbi exchange rate. As to when and how to reform, this depends on the world's and China's economic conditions. We oppose politicizing this issue. We oppose any pressure on this issue."
Related stories
Editor:Du Xiaodan |Source: CCTV.com