Watch Video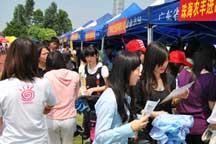 Play Video
June is the last month at school for most college graduates. Those who haven't found a job are rushing to every job fair to try their luck.
However, some agricultural firms are not able to hire many graduates majoring in agriculture, even if they offer a high salary.
Liu Xinglin runs a nearly 90 hectare planting base in Guizhou Province. The company runs well, with its income reaching 4 million yuan last year. But Liu is worried of a repeat of 2006. That year, his capsicums were infected because of a lack of calcium before harvest.
"Did you know what the problem was?"
"I just knew the capsicums were infected, but it's not clear why."
"What measures have you taken?"
"I sprayed pesticides just like how I deal with common plant problems. But in vain, because it's a different problem caused by a lack of calcium."
There's no harvest that year, leading to nearly one million yuan in losses. Since then, Liu realized the need of agricultural technicians. He then started to hire some from universities.
To his surprise, four years have passed, and the salary has risen from 50-to 100-thousand yuan per year, but he hasn't found a single suitable technician.
"The authority sent two college graduates here in 2007. But they only knew some theories, they didn't have any practical experience."
"Were they willing to stay?"
"I asked them to stay, but they didn't."
Such a problem bothers many agricultural companies in Guizhou Province. Less than 10% of their vacancies for graduates can be filled. Students explain why.
Agricultural Graduate, Guizhou University, said, "The salary they offer is not good, neither is the working environment. More importantly, I can't see any prospects in the job."
Agricultural Graduate, Guizhou University, said, ""I'm not very interested in that aspect."
Currently, a number of agriculture related companies are hiring technicians and are dangling a high wage to attract employees. But the results are quite disappointing. For 70% of the graduates, working in these companies is their last choice, despite majoring in this field for the past four years.
Editor:Zhang Pengfei |Source: CCTV.com