Watch Video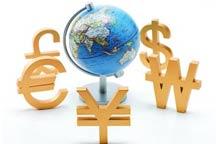 Play Video
China has announced plans to further reform its exchange rate mechanism. The People's Bank of China says that it will allow the yuan to adjust against a basket of currencies. However, it's ruled out an immediate one-off rise in the exchange rate.
The central bank says it will keep the yuan basically stable at a reasonable and balanced level. It will adjust the Renminbi exchange rate based on the floating bands previously announced in the interbank foreign exchange market. The bank says that given China's close ties with a number of trade partners, the yuan will be pegged to a basket of currencies. It stressed that the US dollar will not be the only gauge for assessing the exchange rate.
The central bank says it wants to promote China's balance of international payments, while safeguarding the stability of the country's economy and financial markets.
The move is in line with China's long-term fiscal plan. It aims to support the economic structure adjustments required for sustainable growth.
The central bank says the floating currency exchange rate will help guide resources to service sector, which will upgrade the industry. It will also reduce China's trade imbalance and reliance on exports. The bank says a flexible exchange rate regime will help curb inflation and asset bubbles, and create a more favorable international development environment for China.
Editor:Xiong Qu |Source: CCTV.com