Watch Video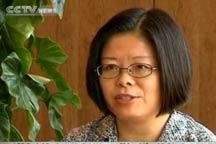 Play Video
Analysts from the major banks also shared their views. Most believe any rise in the yuan will be slow and modest. They say yuan appreciation will benefit China's structure adjustment, and change in economic growth mode.
Wang Tao, Chief Economist of UBS China said "I don't think we're going to get a one-off, even a symbolic one like in 2005. I think the Premier had made it clear a few months ago there will be no one-off. So the move is really a return to the, sort of, a managed flow. So what we will see, of course, given that the RMB-dollar has hardly moved over the last two years, any little move will (be) observed. We think it's going to be a visible, probably appreciation, against the U.S. dollar within the trading band, so over the next few days we'll probably see that," said Wang Tao, China chief economist with the UBS."
Wang Qing, Chief Economist of Morgan Stanley (Greater China) said "In the short term, the appreciation of the yuan will help ease inflationary pressures and maintain a stable macro economic environment. In the long run, it will be beneficial for China's structural adjustment and change in economic growth mode. It will help drive domestic consumption."
Related stories
Editor:Xiong Qu |Source: CCTV.com