Watch Video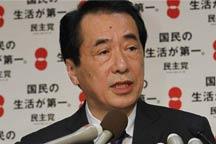 Play Video
Japanese Prime Minister Naoto Kan has stressed that tax reform is vital, to repair the country's tattered finances.
At a news conference on Monday, he said full-fledged debate on a sales tax rise would begin after the July 11th election. Kan, who has made fiscal reform a top priority since taking office this month, stunned listeners last week when he said doubling the five percent sales tax was an option to stave off a Greek-style crisis. Europe's debt woes have fanned concern about Japanese public debt already twice the size of the economy. Kan has made fixing state finances a top priority.
Naoto Kan, Japanese PM said "I believe that tax reform is necessary, in order to execute a definite growth strategy."
"What I am emphasizing is that we must create a strong economy, which also has strong finances, as well as social security. I am not saying that fiscal reform alone is enough. For example, raising the consumption tax to pay down debt would cause deflation."
Editor:Xiong Qu |Source: CCTV.com