Watch Video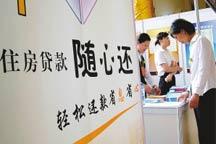 Play Video
China's Banking Regulatory Commission says the number of home loans in China have increased moderately. It says the pressure of home loan adjustment exists, but the risks remain controllable.
An industry rumour recently claimed China's housing prices could slump 30 percent, prompted by increasing pressure on home loans. Insiders say the pressure is rallying in the wake of the government's intensive policy measures to control the property market. China's banking regulator and major commercial banks say the pressure of home loan adjustments are still haunting the market. The risks remain huge for some local level financing platforms. The regulator is warning that the possibility of substantial risks and losses are building up. But some commercial banks remain calm.
Xie Taifeng, Deputy Director of ICBC Managing Office said "The market price slump would definitely impact the banking industry. But after analyzing the data, our fears towards the home loan pressures have eased."
And the banking regulator is reiterating that the risks and pressures facing home loans are still under control.
Ye Yanfei, Deputy Director General of Department of Statistics, CBRC said "We are now gathering and analyzing home loan pressure testing reports from banks. We believe they are under control."
At the same time, the Securities Times cited another official from the banking regulator who says China's property loans should be watched carefully, because of fluctuations in home prices. But data from the banks show that loans in the banking sector have increased in a moderate and balanced way in the first five months of this year.
Related stories
Editor:Xiong Qu |Source: CCTV.com