Watch Video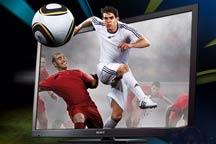 Play Video
Sony has launched its Bravia 3D television following hot on the heels of rivals Panasonic, Samsung and LG. Sony hopes its World Cup unveiling will kick off sales of the new TV.
Television viewing of this year's World Cup is expected to rise 5 percent globally from the last competition in 2006. Tech giants such as Sony pay about 100 million US dollars to be World Cup "partners" and others up to 1 billion dollars to be "sponsors".
At Saitama Stadium in Japan on Saturday, thousands of fans watched the competition unfold on a jumbo Sony LCD screen. Earlier, viewers caught the highlights of Japan's 1-0 win over Cameroon in 3D.
Salesman of Yamada Denki Company said "There will be more and more choices of 3D TVs, the price will be reduced gradually. Meanwhile, there will be more products such as 3D game consoles promoted later on. The market for 3D will become larger and larger."
Editor:Xiong Qu |Source: CCTV.com