Watch Video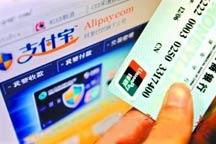 Play Video
China's central bank will over-see non-bank payment service providers, that offer online payment services. Companies like Alipay and Paypal will be supervised by the People's Bank of China under the new regulation. The pay providers have welcomed the move, and added security for customers. Yin Hang has the story.
The central bank's new rules come into effect in September, and require third-party payment agencies to apply for a license from the central bank.
Licensed providers will be required to submit financial reports and client information to the central bank.
Commissions charged for the service are also subject to the bank's approval. Experts say the move will help protect clients from transaction risks.
Kan Kaili, Professor of Beijing University of Telecommunications said "If clients put their money into the bank, the central bank will have a requirement on its "guarantee money on deposits'. But you don't get this with non-bank payment service providers. So the security of the clients might be severely compromised. And if you put hundreds billions of money in the hands of the non-bank bodies, it will definitely cause financial risk."
The Alipay online payment service, is a product of the Alibaba corporation.
Its registered users exceeded 300 million at March this year, and the company has an transaction volume of 1.2 billion yuan per day.
It says it fully supports the move, and will cooperate with the central bank.
Luo Jing, Customer Communications of Alibaba Group said "As a third-party payment service provider, Alibaba fully supports the move of the central bank, because the move will regulate the order of the industry and be conducive to its healthy development. We're now actively filing our license applications to the related authorities, since we have met all the requirements set."
Alipay had a 52 percent share of the online payment market in 2009.
It was followed by Tenpay, an online payment unit of Tencent, with 24.7 percent.
Companies must be profitable for at least two successive years, to apply with the central bank. So experts say the policy will restrict the entry of newcomers in the market.
Editor:Xiong Qu |Source: CCTV.com