Watch Video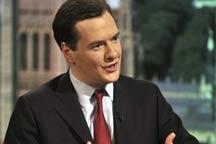 Play Video
Britain's coalition government is to cut spending to ensure that debt will fall as a percentage of GDP by the fiscal year 2015 to 2016.
Finance minister George Osborne had promised in previous weeks that he intended to take the UK's finances by storm. He undertook to rein in a budget deficit running at 11 per cent of national output - not far behind that of crisis-hit Greece.
Chancellor of the Exchequer George Osborne unveiled the first budget of the new government on Tuesday. He says the government will deal decisively with the record debt. The finance minister told Parliament that compared with the plans set out by Labour, the Conservative and Liberal Democrats government will cut additional current expenditure by 44 billion U.S. dollars a year by 2014-15.
The minister says he plans to "over-achieve" his target by 2015 to 2016, pledging that debt will be cut by a percentage of GDP by then.
George Osborne, UK Chancellor of The Exchequer said "This is the unavoidable budget. I am not going to hide hard choices from the British people or bury them in the small print of the budget document."
The UK's public deficit currently stands at 230 billion U.S. dollars, second only to Ireland's debt among European countries.
Government spending is set to fall by a quarter over four years. Added to this - a hike in capital gains tax, welfare benefit cuts and freezes. But according to the UK's business ambassador, the budget will be good for the UK and good for business.
Digby Jones, UK Business Ambassador said "Business needs international standing for the nation. So we want people to invest in the country and create jobs. We want the nation to be able to borrow money at a low rate of interest. Now that needs the world to think that this nation is serious about dealing with the problem. "
Initial reactions from rallying bond markets, a rising pound and positive rating agencies have given this budget a cautious welcome. But there are still fears the scale of the squeeze could plunge Britain back into recession after its fragile recovery.
Editor:Xiong Qu |Source: CCTV.com