Watch Video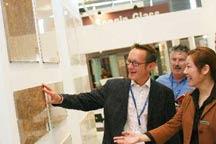 Play Video
The European Union has launched an anti-dumping probe against imported ceramic tiles from China. The Chinese tiles are allegedly being dumped at the maximum margin of 430 percent. CCTV reporter takes a look at how domestic manufacturers are responding to the probe.
The investigation will determine whether China-made ceramic tiles are being dumped, and whether this has caused injury to the EU's industry. More than 1,400 enterprises are involved in the probe. 80 percent of them are located in Foshan in Guangdong Province.
Lan Weibing, Chief of Foshan Branch, China Ceramic Industry Association said "The impact on China's ceramic industry will be huge. According to our data, exported ceramic tiles to the European Union reached 70 million square meters last year - that's worth around 330 million U.S. dollars."
The investigation has the potential to be highly damaging for the ceramic tile industry in Foshan. The anti-dumping duty imposed could be as high as 430 percent. Many Chinese enterprises have responded to the probe.
Chen Yanbin, CEO of ASGF Ceramic Co. Ltd. said "Chinese enterprises should consider the standard of the foreign industries. And we're supposed to know how to handle trade frictions. By doing this, we will not be so nervous about that."
For now, the China Ceramic Industry Association is calling all ceramic manufacturers involved to actively respond to the probe and lodge their complaints.
Lan Weibing said "Enterprises are actively responding to the probe. Around 80 enterprises have decided to respond. And we have also hired more than 1,700 legal experts to help us out."
The EU anti-dumping investigation normally takes no more than a year. The EU governments will then decide whether definite anti-dumping duties will be imposed for five years. During the investigation period, the commission may impose six to nine month long provisional duties. The industry association is recommending Chinese ceramic tiles producers build up their business in overseas markets in order to stave off possible trade frictions.
Related stories
Editor:Xiong Qu |Source: CCTV.com