Watch Video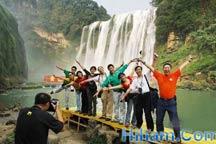 Play Video
China's announcement to further reform its exchange rate mechanism will impact on many economic sectors. Let's take a look at how the new policy will affect the country's tourism industry.
Dai Bin, Deputy Director of China Tourism Academy said "According to our analysis, when the RMB exchange rate rises 1 percent to the U.S. dollar, the number of tourists from the U.S. to China will decrease by 0.15 percent. On the other hand, the number of Chinese travelers to the U.S. will increase by 0.1 percent."
Dai says around 550 thousand Chinese will visit the U.S. this year, but fewer Americans will come to China. The hotel sector will be directly hit. Currently the gross profit for China's hotels is around 20 percent, while the net profit is less than 5 percent. If the yuan continues to appreciate by 5 percent, hotels may fall at a loss. But business for travel agencies is picking up, with more people signing up for overseas trips.
One tourist said "As the Reminbi appreciates, we will save lots of money when buying overseas, so my family has decided to visit U.S."
The travel agency says it's welcomed more customers signing up for U.S. tours as the Yuan appreciates. The price for a trip to the U.S. has fallen to around 20 thousand yuan, down by nearly 30 percent year on year. Some agencies have already begun to receive reservations for October.
Related stories
Editor:Xiong Qu |Source: CCTV.com