Watch Video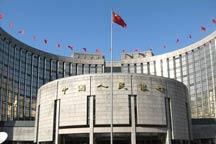 Play Video
China's central bank injected a net 201 billion yuan into the money market this week, through its open market operations. This is the fifth consecutive week the bank has pumped capital into the market. And this week, it didn't make any bond repurchase to drain liquidity from the market.
Since May 24th, the People's Bank of China has injected a total of more than 700 billion yuan into the market. That's almost 70 percent of total liquidity that the banking system had drained from the market in the first half of the year. The money injection was aimed at easing a liquidity crunch caused by commercial lenders' massive fund-raising efforts.
Li Jianjun, Professor of Central University of Finance & Economics said "The move mainly aims to ease a liquidity shortage on the inter-bank market. But it doesn't mean any change in the direction of the central bank's monetary policies. The market has met capital shortages due to the raising of the bank deposit reserve ratio. Normally, May and June are the peak period for credit growth. So the money injection will help stabilize economic development and meet the demand of enterprises."
Editor:Xiong Qu |Source: CCTV.com