Watch Video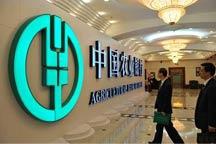 Play Video
The Agricultural Bank of China is scheduled to begin taking subscriptions on July 1st and should set its IPO price on July 7th. The bank could go down in history as the world's largest IPO when it lists in Hong Kong and Shanghai next month.
AgBank is the third largest bank in China, and is now seeking to raise over 21 billion U.S. dollars. The IPO has previously been estimated as high as 30 billion dollars. That figure has since been scaled back due to falls in the domestic and global markets.
Yi Xianrong, Professor of Chinese Academy of Social Sciences said "Given the current economic circumstances in China, the prospects for the Agricultural Bank of China are very promising. It is one of the state-owned banks and can take advantage of market resources and favorable government policies."
Sources say the bank plans to raise up to 11.4 billion dollars in the Hong Kong leg of the IPO. It's set a price range of 2.88 - 3.48 Hong Kong dollars a share. The Shanghai listing is likely to be priced at 2.6-2.7 yuan per share.
With best estimates, the total IPO could raise up to 21.3 billion dollars. That's just under the record 21.9 billion dollars raised by rival ICBC in 2006. AgBank's underwriters could also exercise the over-allotment, or greenshoe option and issue up to an extra 15 percent of shares - raising more than 24.5 billion dollars. Some say it's no surprise that AgBank might make the world's largest IPO.
Yi Xianrong said "Compared with its status in 2003, The Agricultural Bank of China has made great improvements and changes in terms of the scale of its business, the quality of its assets and its overall market share."
AgBank plans to debut its shares in Shanghai on July 15th and in Hong Kong a day later, and is kicking off an official market road show.
The bank and its underwriters are marketing the offer to institutional investors. It's already sold 5.5 billion U.S. dollars of the Hong Kong deal to corporations and sovereign wealth funds.
Editor:Xiong Qu |Source: CCTV.com