Watch Video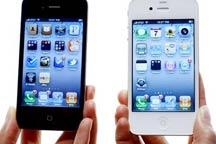 Play Video
The iPhone 4 has been unveiled in five countries, and customers around the world are flocking to be among the first to buy the new gadget.
Sales of the iPhone 4 have blasted expectations. Demand for the new model has overloaded computer systems and forced Apple and iPhone retailers to stop taking pre-orders as supplies run out. The new model boasts a higher-quality screen and longer battery life.
In Japan, the phone was launched before other countries due to the time difference. Fans dressed up like iPhones and painted iPhones on their faces.
Noboru Takahashi has waited in line since Monday at Softbank's flagship store in an upmarket Tokyo shopping district. He was the first in a queue of more than 300 people.
Noboru Takahashi, Musician in Tokyo said "I can't stop smiling."
iPhone mania has also hit New York, where fans queued overnight outside the Apple flagship store to snap up the latest gadget.
The iPhone 4 is also launching in the U.K., Germany and France. The phone is already considered the new benchmark in the fast-growing smartphone market, and has set a record of 600,000 pre-orders in a single day.
The iPhone has been a huge success since its debut in 2007, boosting Apple's margins and transforming it into one of the world's leading mobile phone producers.
Iphone fever represents the success of smartphones around the world. According to the latest figures from research company Gartner, smartphone sales grew by nearly 50 percent in the first quarter of this year, the biggest increase in 4 years.
The smartphone market now accounts for 17 percent of the total mobile phone market.It's also become a major battleground among phone producers. While Nokia's Symbian is losing market share, sales of Rim's Blackberry, Google's Android and the iPhone are getting stronger.
Editor:Xiong Qu |Source: CCTV.com