Watch Video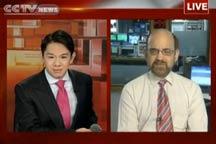 Play Video
For more insights on the just-closed G20, we cross-over to Singapore, where David Cohen, the economist from Action Economics, is now standing on the line.
1 There is a sense of disunity at this summit compared to previous G20 meetings. In the past 3 summits, world leaders came together to head off the global recession, but the language suggest very different ideas this time, why?
2 The deficit target was not something the US wanted but went along with anyway. Is this something of concern to Asian economies who remain heavily dependent on global growth?
3 A proposed 2012 deadline for new bank capital ratios has also been delayed. This must be seen as setback at efforts to prevent the kind of banking shocks that were a big factor for the current slowdown?
4 Emerging economies did not get the greater IMF voting power they were hoping for at this G20 meeting, what are the obstacles and how big are they?
5 Much has been made about the Yuan not being in the final G20 statement, but what does Yuan flexbility really translate to in terms of jobs and growth for Asia?
Editor:Xiong Qu |Source: CCTV.com