Watch Video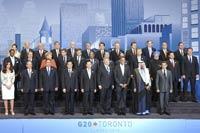 Play Video
A punitive global tax on the world's largest banks attracted plenty of controversy before this year's G-20. But the summit's final declaration omits any mention of the tax, indicating world leaders couldn't reach a consensus.
The World Trade Organization says it's not the right time to introduce the levy on banks.
The Organisation of Economic Co-operation and Development believes banks should be focusing on more urgent matters.
Although the so-called "Robin Hood" tax was ruled out at the summit, some European countries have already taken steps to implement it. The UK, France and Germany say the tax will curb the type of excessive financial risk-taking that pushed the global economy to the brink. They also argue it will help build a nest egg for future crisis.
But the proposal came up against fierce opposition from countries whose banking sectors survived the worst of the crisis. They argued the levy would hurt banks that had little to do with the crisis, and at any rate, wouldn't prevent a future meltdown.
Editor:Xiong Qu |Source: CCTV.com