Watch Video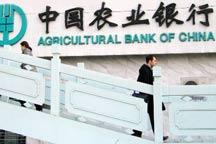 Play Video
Agricultural Bank of China has set the price range for the Shanghai portion of its initial public offering, at 2.52 to 2.68 yuan. That represents 9 to 10 times the lender's forecast book value this year, based on Chinese accounting standards.
China's third-largest bank plans to sell more than 22.2 billion shares in Shanghai to raise over 59 billion yuan. An over-allotment may boost the offering size by 15 percent, to more than 25 billion shares. The A-share price is 11 percent cheaper than the upper range of the bank's H-share offering.
Sources say the indicative range for the Hong Kong SAR offering is between 2.88 and 3.48 Hong Kong dollars.
Editor:Xiong Qu |Source: CCTV.com